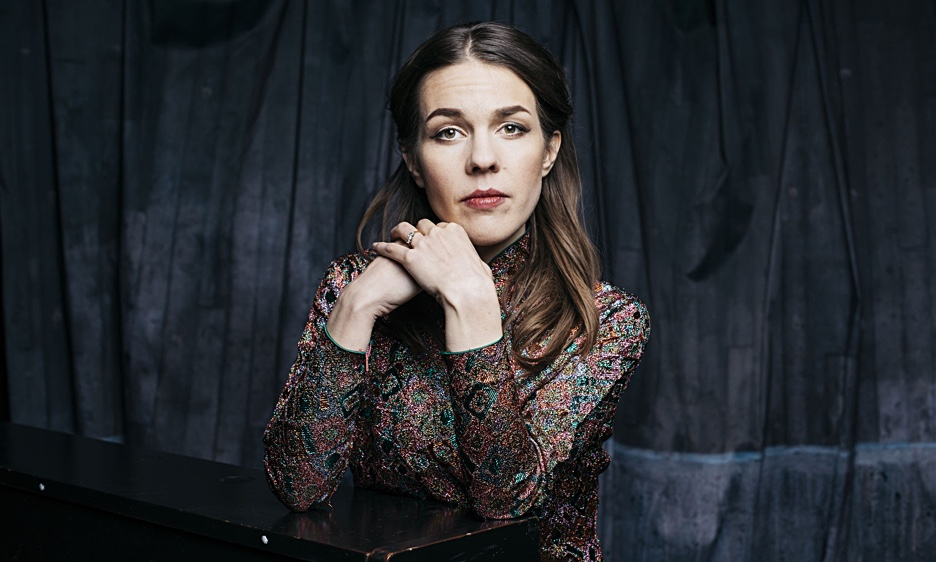 Photo credit: Vara Konserthus
This music is my why, and hopefully you can find comfort through it whatever how you are standing in. 'He who has a why to live, can bare almost any how', wrote the German philosopher Friedrich Nietzsche.
—Isabella Lundgren
Isabella Lundgren was born on the winter solstice of 1987. Each day after her birth the sun shone longer until summer came. Kind of how one feels listening to her latest album Look for the Silver Lining (Ladybird, 2021). One of Sweden's gifts to the music scene, she's a young woman with a heart and soul for the ages. My interview with her was conducted using James Lipton's Inside the Actor's Studio as a guideline in a 60-minute Zoom call.
Her eighth outing this album, at the very least, pays homage to the time and memory of Judy Garland. It's also a way of helping us retrieve some of the hope and joy lost in the pandemic. The songs come straight from the American Songbook. The title song, written by Jerome Kern and B.G. DeSylva, is 100-plus years old. The 'silver lining' idiom goes all the way back to John Milton's 1634 poem Comus: A Mask Presented at Ludlow Castle. Milton writes that a silver lining shows at the edge of clouds when the sun or moon shines behind them. The image fits well with Lundgren's concept of what singing is all about for her. She laments that today's songs lack well-defined dimensions of storytelling and literacy. One of her favorite songs is "Everything Happens to Me." Laughingly she said, "If the song were written today the line 'I've mortgaged all my castles in the air' would instead be written as 'everything sucks.'"
Her knowledge of the American culture and songbook was nurtured in the mid-2000s as a music student in New York City. She lived here through parts of George W. Bush and Barack Obama. Through a Swedish lens, she paraphrased Jung when describing the world after COVID-19… when a tree's branches reach for heaven its roots reach for hell. Consistent with her message of hope, she thinks the world comeback will be strong and positive.
Lundgren became animated talking about criticism of Look for the Sliver Lining.. Someone said the songs were 'trite and banal.' Lundgren's animation was not ego-related; it was related to the power of the songs on the album to tell a story and provide messages of hope. If "The Folks Who Live on the Hill" is banal or trite then so were Darby's and Joe's lifetimes. Peggy Lee and Frank Sinatra didn't think 'trite and banal' fit the song. Sinatra told Lee to sing like Billie Holiday when he conducted Nelson Riddle's arrangements on the album The Man I Love (Capitol, 1957).
Lipton's questions on Inside the Actor's Studio derive from the questions of Bernard Pivot and Marcel Proust. During his interviews James has often given credit to Pivot, the French TV host, but rarely if ever, the world-famous author. The Proust questionnaire evolved from 'confession albums' created during Victorian Age parlor games played to learn how friends felt and thought about things. Lundgren's answer to what is your favorite sound was…the wind rustling through stately trees in the woods near her grandparents' home -"a sound in the midst of silence." Her voice has similar purity and clarity.
She won Sweden's Anita O'Day prize in 2013. One may wonder why they stopped giving out the prize after that. Is she that good? Maybe. She loves watching O'Day— dressed to the nines -sing "Sweet Georgia Brown" and "Tea for Two" in Bert Stern's Jazz on a Summer's Day—one of her favorite films along with Sunset Boulevard, The Sound of Music and The Sound of Metal. If you're looking for scatting on her records you won't find it. You will find a rendition of "La Vie en Rose" on her first album, It Had to Be You (Ladybird, 2012); Edith Piaf would applaud.
It's not everyday, jazz singers study religion or plan for the priesthood. Kurt Elling comes to mind having left the University of Chicago Divinity School one credit short of a degree. Lundgren studied to be a Lutheran minister but decided to stop just short of ordination. She cited Rainer Maria Rilke, "I began to like the questions more than the answers."
She'd like to see more space in pop culture for jazz music. Aficionados who turn "high brow stuff"(classical music and jazz) into an elitist listening space turn her off. For her, interest in jazz music involves taking the time to listen while having the patience to focus on the music. That did not describe too many of us before the pandemic. What about now? Music has gotten us through the worst of times, it can also help in the best.
Arguably the foremost social theorist of the 20th century according to the Stanford Encyclopedia of Philosophy, Max Weber used the 'iron cage' as a metaphor. He defined it as a consequence of humanity's emphasis on wealth and efficiency rather than emphasizing our kinship. Lundgren agrees. She referenced Weber's "specialists without spirit and sensualists without heart." She's one of the few who can reference quotes from great modern minds and poets.
Besides the Nietzsche-Rilke-Jung-Weber quartet, she's into Frank Sinatra, Sarah Vaughan, Blossom Dearie and Judy Garland, because they served the song and told its story. Artistically, Lundgren insists that a singer's "ego and narcissism get out of the way of the music" so that the music keeps its power. Her answer to what she would like to be if she weren't a singer was, "to be of service." In that regard, as a recovered addict she'd like to help others in recovery.
Therein lies her mystery and magic. She sings and serves from the heart. As it was in the beginning, it is now and ever will be—Isabella Lundgren is a singer with a heart and soul for the ages.